17 pc. STUNNING MZ Moritz Zdekauer Vintage 1922-1945 GILDED GOLD Tea Coffee SET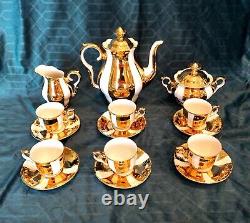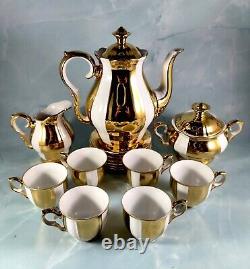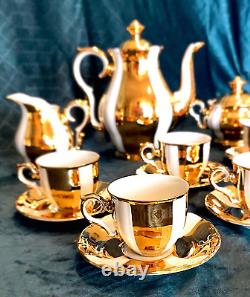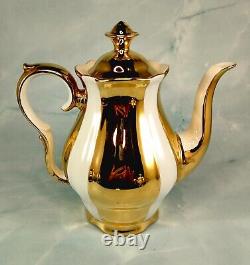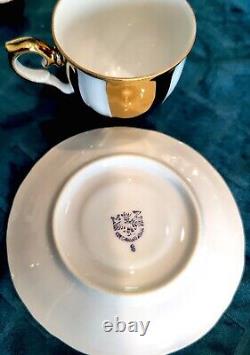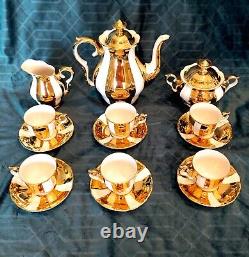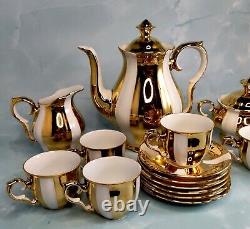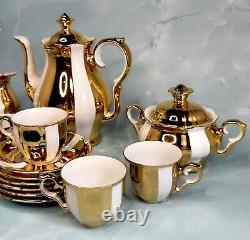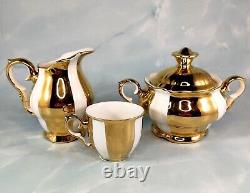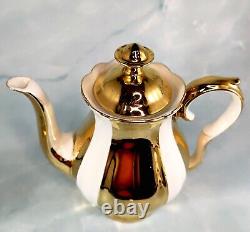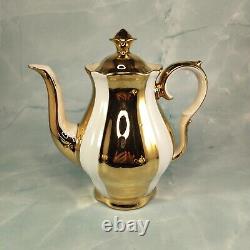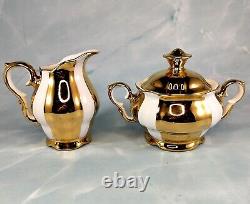 "MZ" Moritz Zdekauer Gilded GOLD and WHITE striped Coffee Pot Set. From the Czech Republic is an outstanding vintage tea / coffee set. Stamped with the older Eagle symbol with outstretched wings that was used from 1922 to 1945. This stunning Bohemian porcelain set is in excellent condition. Only very minor age-related wear. The insides are perfect with no stains or signs of wear. It was impossible to take photos without reflections. This is an impressive bright and beautiful gold Bohemian porcelain set. I took pictures in two settings to show the color under different lights. The green velvet background was near a window, so had natural sunlight. The others were under studio photography lights. The 17-piece Tea / Coffee Set includes. One 8 tall teapot plus one lid (could be a coffee pot for Espresso). One sugar bowl, plus one lid. 6 demitasse espresso / smaller tea cups. 1810 by Benedict Hasslacher is based in the Czech town of Stara Role along the river Rolova.
It survived several wars and economic upturns, but due to the auspices of Bohemia porcelán Moritz Zdekauer 1810 s. O the company still produces fine bohemian porcelain under the crowned eagle and MZ mark. We package our Treasures carefully. Thank you for supporting our small independent family-owned business. We make every effort to research our Heritage Estate & Legacy Treasures to provide the most accurate information available on your collectibles.
If you have questions or any new information, please message us. We hope you love your new Treasures!