Vintage Staffordshire fine Paragon Bone China Radstock 6pc Coffee Set complete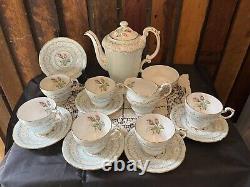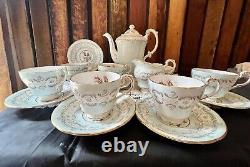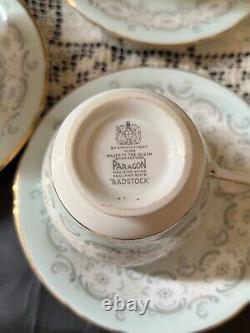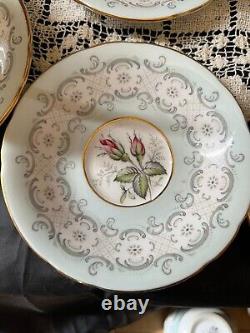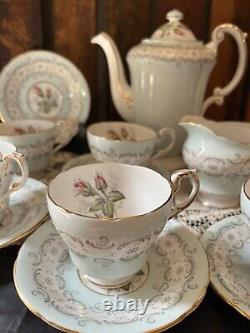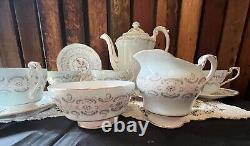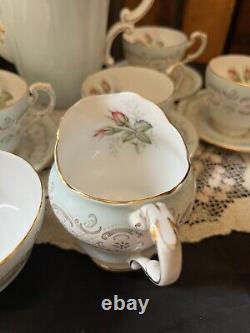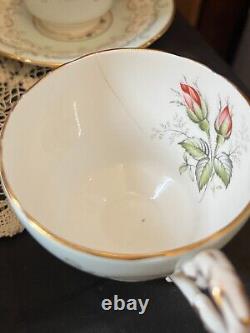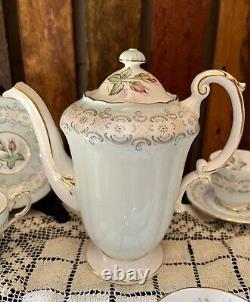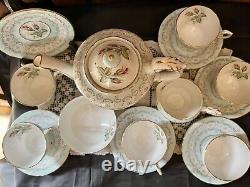 Vintage Paragon Bone China "Radstock" 6pc Coffee Set complete. Elegant 6pc Paragon'Radstock' Vintage Coffee Set in Ice-Blue & Grey on White China with Gilt Trims and charming rose patterns.
The company was established in 1919 in Longton, Stoke-on-Trent, England. Paragon quickly gained a reputation for producing elegant and finely crafted fine bone china products, earning them a Royal Warrant from Queen Mary in 1933.
Fine bone china is a type of ceramic dinnerware made from a combination of china clay, feldspathic material, and bone ash. This composition gives it its characteristic translucency, strength, and delicate appearance. Fine bone china is considered a luxury material and is often used for formal dining occasions or special events.
Paragon Fine Bone China is particularly admired for its beautiful and intricate designs, often featuring delicate floral patterns, gold accents, and intricate hand-painted details. The brand's products are highly sought after by collectors and connoisseurs of fine china. Please note that due to variations in computer screen settings, such as CRT and LCD screens, the color of the product may differ slightly from the photographs you see.